Business Start-Ups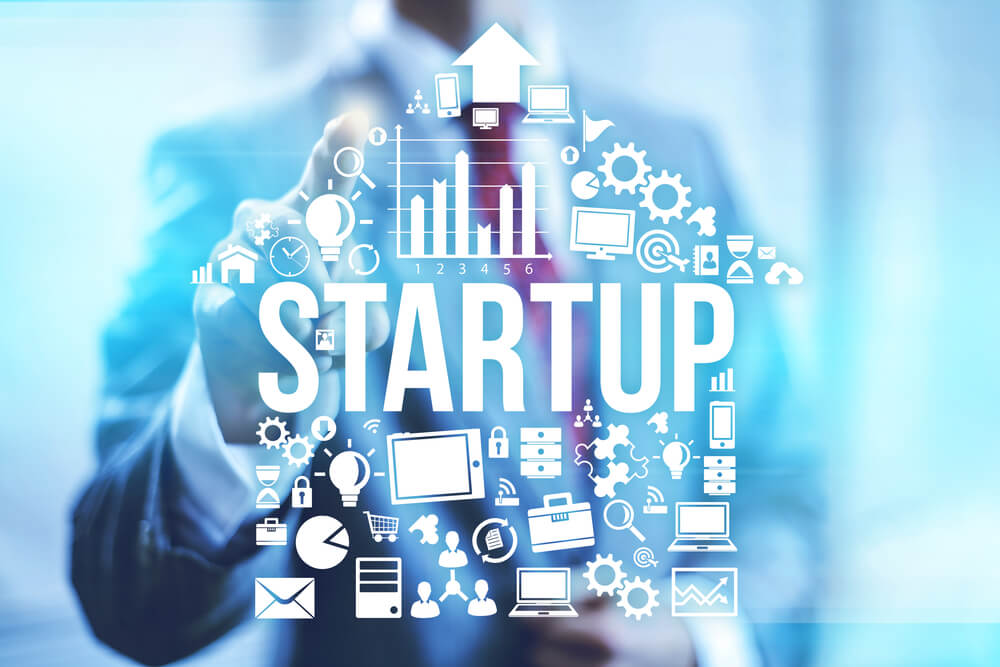 Product Design
All business ideas are a product, service or combination of both. The success of our idea, proposal or business will depend on its capacity to provide an ideal solution to a problem, need or desire. We have to be able to integrate the value proposition into the product or process, striving towards the best possible user experience. Our customers will determine if our proposal is a success. That's why it's important to fully understand our different segments, their characteristics and capacities.
Troubleshoot products
When we talk about a tangible product, there are many relevant aspects we have to manage so that we can come up with an excellent and viable proposal:
Materials and textures

Weight

Colour and aesthetics

Scent

Size

Complements

Frequency of use

Resistance / durability

Storage options

Transportable

Removable parts
Have you already thought about these aspects of your product?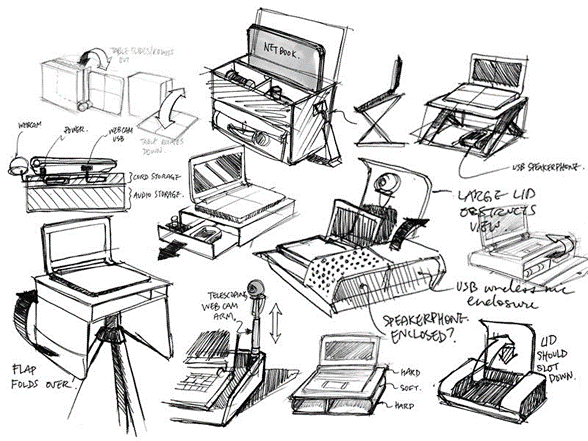 > Product design sketches
Graphic outline
Using oral descriptions to work on a physical product is risky business. At the very least, we should conduct a proportional graphic analysis, to scale. Identify parts, pieces, combinations, forms of use and transport, lists of complements or accessories.
"If you can't draw it, you don't understand it"
There are many free tools like Blender or Sketchup that we can use to create a simple, three-dimensional model. Do it!
Physical outline
No!
A drawing or 3D model is still far from reality. There are several aspects that they just can't help us validate. Mockups and prototypes, real size or built to scale, will give us important information. Not only on aesthetic aspects or volume but also for assembly, ergonomics, resistance, weight, usability, etc. We have to reduce uncertainty to the max before producing the product. Take advantage of the current accessibility of 3D printing to experiment with your product from early on so you don't end up with any nasty surprises.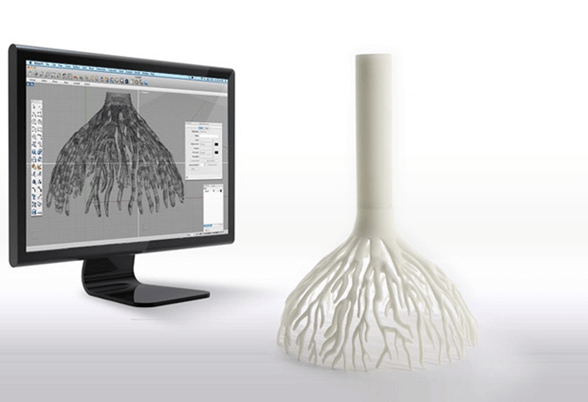 > With the 3D printing revolution, prototyping has been made easy
Cost analysis
Graphic development and prototypes assist us to get closer to the real design of our product. We have to turn this into square/cubic metres of material, treatments, components, buttons, final touches, packaging, protections, processes, production times, labour, storage space, etc. All these aspects involve key activities and resources, which should be reflected in our cost structure as either fixed or variable costs depending on the production.
Usability analysis
Any product, whether it's going to be used by humans, animals or machines, has to be designed so that it performs its function as well as possible. For this to happen, or for the user experience to be as planned, we have to conduct tests. We'll take advantage of more or less definitive mock-ups and prototypes to get closer to achieving the experience or performance we're looking for. We should define metrics to evaluate these aspects and analyse user feedback. This will help us get our product to work and to convey our vision.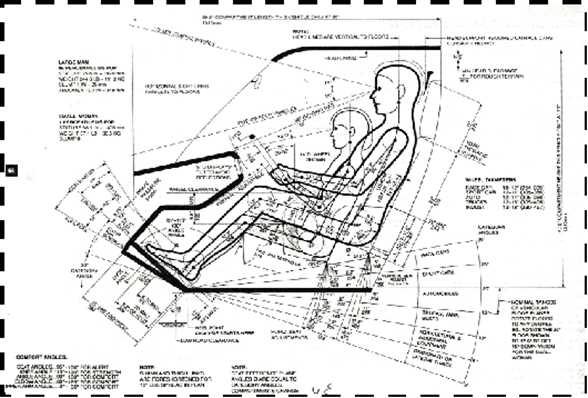 > Ergonomic study of a car interior
The customer is always right
Without customers there's no business. Identify them, get to know them, understand their concerns and needs… this is step one if you want to design a good product they'll want to buy. Let's do an imagination exercise. Look at the picture on the right. Every person is different, their way of dressing gives us information, their haircut, height, etc. Choose 3 people, give them names and write a few lines about them: who are they? what do they do? what do they like? what type of life do they lead?
And now, let's start the exercises. Let's design something for them 🙂
Exercises
The characters on the right are your customers 😉
Develop graphic outlines for the following products. They should be highly personalised, avoid general solutions.
A container for transporting liquids

A coat

A chair
Do the exercise on a single page with as little text as possible. Only add concise notes and clarifications.
The person producing the object must be able to understand and execute the drawing.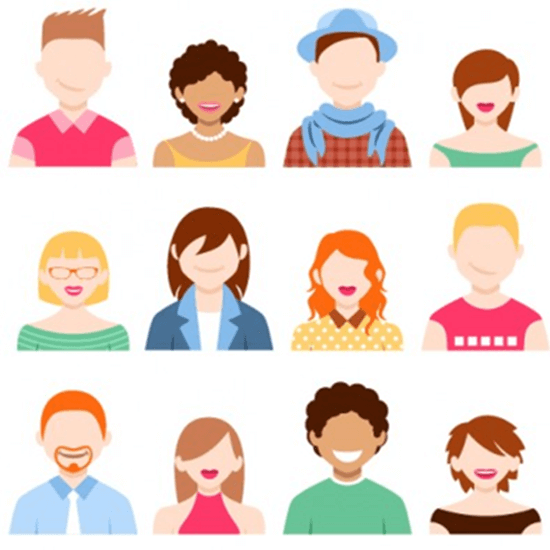 > Choose your customer!
Self-Evaluation Checklist
I agree that the customer is at the heart of any business idea.

I'm aware that I have to know my customer down to the last detail if I want to meet their needs.

I've done hundreds of graphic outlines of my product (even when it's not a tangible product).

I know which materials I'm going to use, the measurements, textures, colours, scents, flavours, etc.

I've created a physical prototype of my product and it's really cool.

I understand how important usability is.

I'd never designed a coat before, but now I know how many square metres of material is needed (lining included).
Introduction to the module
Welcome to the Business Startup module.
The goal of this module is to create a startup, provide you with the necessary tools and refine your skills so that you can turn your idea into a business model.
Download here related workbooks before starting the course:
All workbooks in this course please submit to rventura@uma.es (UMA students), s.best@mdx.ac.uk (MDX students), dmiocevi@efst.hr (UNIST students), upon finishing the assignments.
About author
Rafael Ventura Fernández, Ph.D., is Vice-President of Social Innovation and Entrepreneurship at University of Málaga. Ventura joined the University of Málaga in 1995 and has been visiting research fellow at the Technical University of Delft (Netherlands) and the University of Stockholm (Sweden). He has received PhD Prize and Spin Off Award in Universidad de Malaga. Ventura teaches entrepreneurship, innovation in business models, social responsibility, economy of culture and new organizational forms derived from the information technology and communications. His research has been presented and published in the proceedings of regional, national and international conferences and in peer-reviewed journals. He has experience managing research projects, postgraduate academic programs and educational innovation projects.
For discussion and course related questions visit the FORUM.
Course Features
Lectures

13

Quizzes

0

Duration

90 hours

Skill level

All levels

Language

English

Students

11

Assessments

Self
UNIT 1. Startup Entrepreneurs

UNIT 2. Tools

UNIT 3. Building Knowledge