Business Start-Ups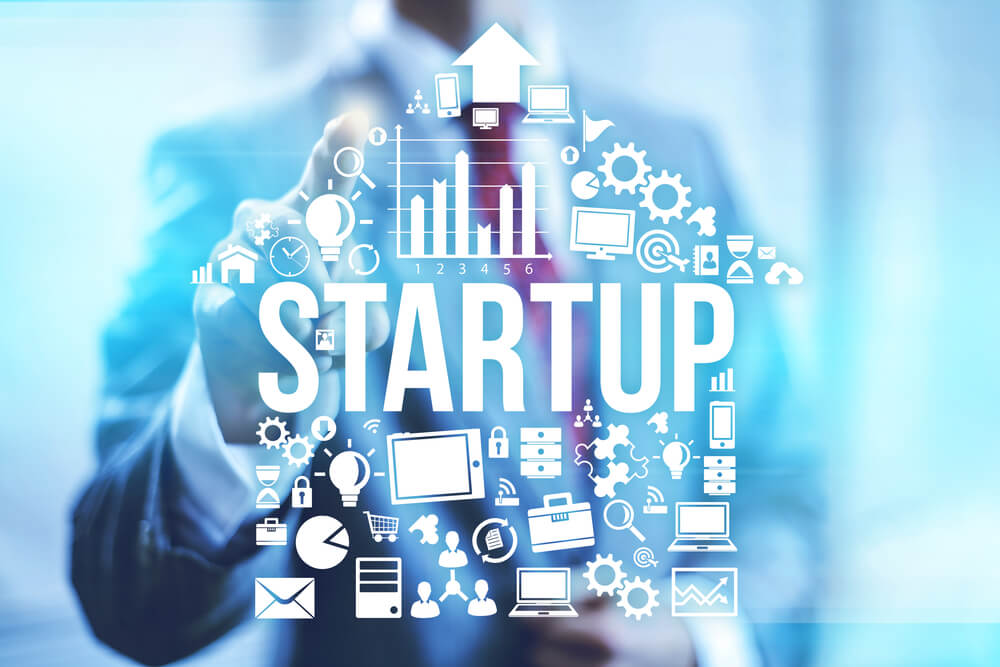 SWOT
What is a SWOT?
It's a basic analytical tool for thinking strategically about our business idea. It lets us create an introductory mind map so that we can analyse how competitive our company is. The SWOT analysis technique involves analysing our company's competitiveness from two perspectives: external and internal.
The 4 aspects that give the tool its name are analysed:
Strengths. Skills, resources, positions achieved… competitive advantages that are useful for exploiting opportunities.
Weaknesses. Aspects that limit or reduce the effective development capacity of the company strategy. We have to control and overcome them.
Opportunities. Anything that could give us a competitive advantage or the chance to increase our profitability or business turnover.
Threats. Everything that can get in the way of implementing our strategy, reduce sits effectiveness or profitability, or increases the risks involved and implementation resources.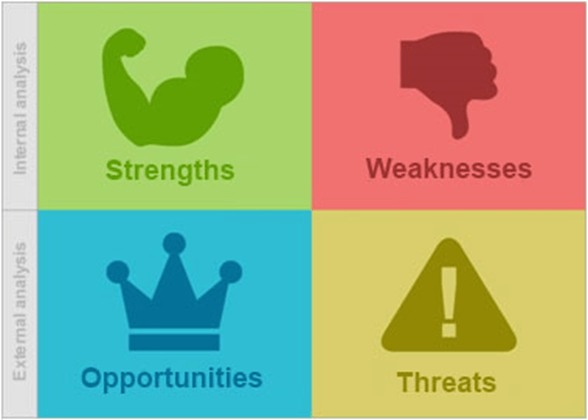 SWOT diagram
If we're using a Business Model Canvas, the information obtained from the SWOT analysis will mainly help us with our added value.
We do a SWOT analysis in 2 phases.
Internal analysis   
Identifies strengths and weaknesses. The following factors are studied:
Production. Production capacity, manufacturing costs, quality and technological innovation.
Organisation. Structure, management and control process, and corporate culture.
Staff. Selection, training, motivation, remuneration and rotation.
Marketing. Product range and line, image, market positioning and share, prices, publicity, distribution, sales team, offers and customer service.
Finances. Available financial resources, debt level, profitability and liquidity. Research and Development. New products, patents and lack of innovation.
External analysis
Identify and analyse the threats and opportunities in different areas:
Environment. Including economic, political, legal, sociological and technological factors, etc.
Market. Define our target market and its characteristics. Market size and segment, development of demand, customer desires, etc., as well as types of purchasing and buying behaviour.
Sector. Identify market trends to uncover opportunities for success. This involves surveying companies, manufacturers, suppliers, distributors and customers.
Competition. Identify and evaluate current and potential competitors. Analyse their products, prices, distribution, publicity, etc.
What strategy should we adopt?
SWOT helps us consider what we need to do to take advantage of the opportunities we've discovered and eliminate or manage threats, while keeping our strengths and weaknesses in mind.
Once we've set our objectives – which should be ordered by importance, quantified, real and consistent – then we decide on our strategy to fulfil them by using marketing actions.
Let's go over the possible strategies and give some examples:
Defensive. The company is prepared to deal with the threats. If your product is no longer the market leader, highlight what sets you apart from the competition. When your market share drops, look for more profitable customers and retain them.
Aggressive. The company has to adopt growth strategies. When customers recognise your strengths, you can attack the competition to really drive home your advantages. When the market is mature, you can try to steal customers by launching new models.
Survival. You're up against external threats and internally you don't have the strength to take on your competitors. Leave things as they are until the situation changes.
Redirection. You're presented with opportunities to snap up, but you're not suitably prepared. Change your policy or products because the current set-up isn't achieving the desired results.
Let's Do It!
You're up!
Use SWOT to reflect on the various aspects that affect (or will affect) your business idea. Practise analysing other sectors, applying the SWOT analysis to different types of businesses. Gradually the process will become automatic and SWOT will help you to approach other sectors or variations of your business model from an agile strategic perspective. When you make changes, your Strengths and Weaknesses will change for better or worse.
SWOT table
Self-Evaluation Checklist
I understand the difference between internal and external factors.

I know what my main Strengths are.

I've identified my Weaknesses and I'm going to work on them.

I'm studying Opportunities in the sector where I want my business idea to work.

I'm aware of the external Threats that could jeopardise my project.

I understand the different Strategies I can adopt and I know how to develop each of them.

I'm more in touch with the business context where I'm going to launch my idea.
Introduction to the module
Welcome to the Business Startup module.
The goal of this module is to create a startup, provide you with the necessary tools and refine your skills so that you can turn your idea into a business model.
Download here related workbooks before starting the course:
All workbooks in this course please submit to rventura@uma.es (UMA students), s.best@mdx.ac.uk (MDX students), dmiocevi@efst.hr (UNIST students), upon finishing the assignments.
About author
Rafael Ventura Fernández, Ph.D., is Vice-President of Social Innovation and Entrepreneurship at University of Málaga. Ventura joined the University of Málaga in 1995 and has been visiting research fellow at the Technical University of Delft (Netherlands) and the University of Stockholm (Sweden). He has received PhD Prize and Spin Off Award in Universidad de Malaga. Ventura teaches entrepreneurship, innovation in business models, social responsibility, economy of culture and new organizational forms derived from the information technology and communications. His research has been presented and published in the proceedings of regional, national and international conferences and in peer-reviewed journals. He has experience managing research projects, postgraduate academic programs and educational innovation projects.
For discussion and course related questions visit the FORUM.
Course Features
Lectures

13

Quizzes

0

Duration

90 hours

Skill level

All levels

Language

English

Students

11

Assessments

Self
UNIT 1. Startup Entrepreneurs

UNIT 2. Tools

UNIT 3. Building Knowledge