Business Start-Ups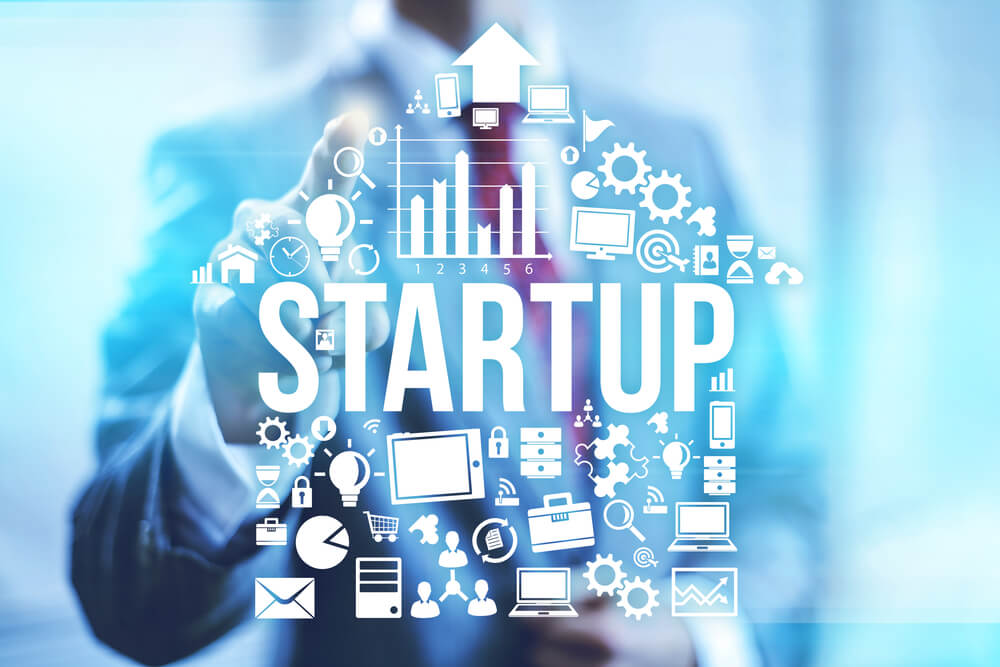 Business Model Canvas
This is a template to design business models. It's known as the business model canvas (BMC from now on). It's an instrument to help us learn and work with our business model from a comprehensive viewpoint of the entire company. It was designed by Alex Osterwalder with the help of Yves Pigneur, and launched in Business Model Generation, a must read. The book also looks at the advantages and disadvantages of adopting different pricing strategies (freemium, long tail, etc.) and how they relate with blue ocean strategy tools. We can use the BMC from a very early phase to help us get our thoughts in order. We have to master how to use it so we can analyse our ideas and projects. BMC has become a code language among entrepreneurs and business people when sharing, debating, reviewing and comparing business ideas.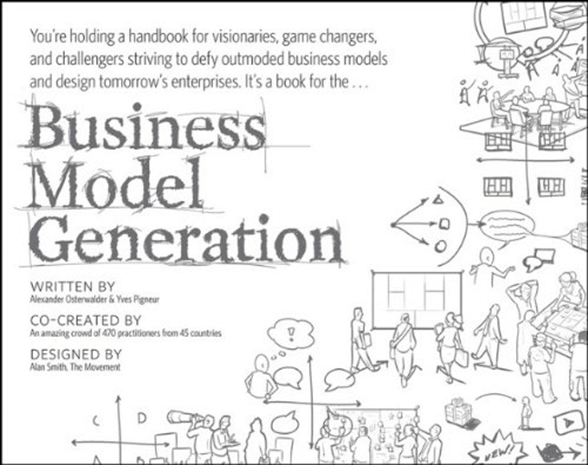 > Lean Startup method (Eric Ries)
To work on our ideas, we use a template incorporating the most relevant aspects for creating a business model. Key aspects that otherwise we might have overlooked. We use post-its so we can change things quickly and easily. If we're a team, it's a good idea to print out a large copy so everyone can work on it together. In the 9 blocks on the canvas, we find most of the basic questions we need to ask in relation to our business idea. By answering these questions, block by block we build our business model. BMS is not a substitute for a business plan. It's a practical, fast and agile tool that lets us grasp the complexity of our new business from different points of view.The 'prototyped' idea has to be on paper from the start. Then, as we get closer to defining our idea, many aspects will slowly change. If a business has to conduct an in-depth study into the different market segments, product lines, channels, etc., it might need more than one canvas.
> Video explaining the Business Model Canvas
The Business Model Canvas lets you approach ideas with a flexible mind-set, whether analysing an existing idea or coming up with something new.
While you're free to work with this tool however you want, this is the recommended order for tackling your BMC:
Customer Segments
Value Propositions
Channels
Customer Relationships
Revenue Streams
Key Resources
Key Activities
Key Partners
Cost Structure
This is only a guide. The order might change depending on the circumstances.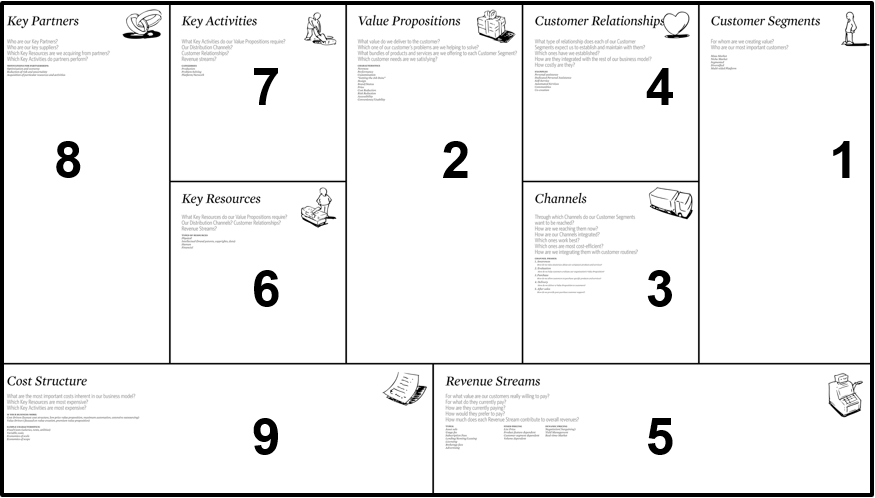 > Business Model Canvas
Customer Segments
A company targets one or several market segments.
Since our customers are the foundation of our business model, we have to truly get to know them:
What are our most important customer segments?
Do we want to reach the general public, the mass market or a very specific niche market?
Are there several interdependent customer segments?
Mass Market
Large group of customers with similar needs and problems.
Niche Market
Specific and specialised segments.
Segmented Market
Different value propositions for slightly different market segments.
Diversified Market
Market segments that are completely different from one another, with no common ground.
Multi-sided Platforms or Markets
Two or more distinct but interdependent market segments, all of which are essential for the business model.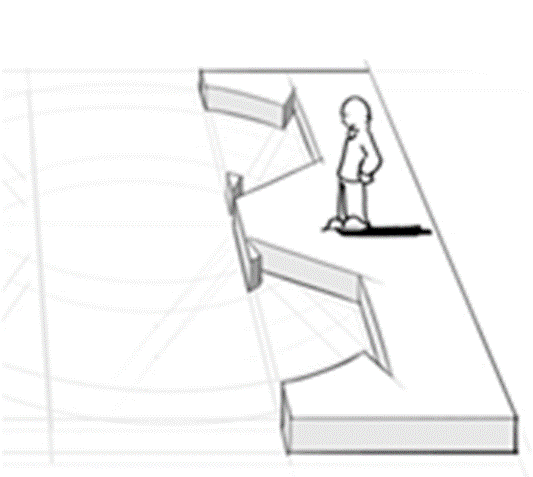 Value Propositions
The goal is to solve problems that customers have been encountering and to satisfy their needs with value propositions. The value proposition addresses the problem and how we're going to solve it for the customer with our company's products or services.
It also addresses our competitive strategy:
price?
customisation?
savings?
design?
Our value proposition could include differentiating attributes like:
The novelty it introduces
Improved performance in comparison with the competition
Customisation options
Its design
Brand equity or its position/status
Its price
Cost reduction
Risk reduction
The accessibility it provides
Its ease of use or usefulness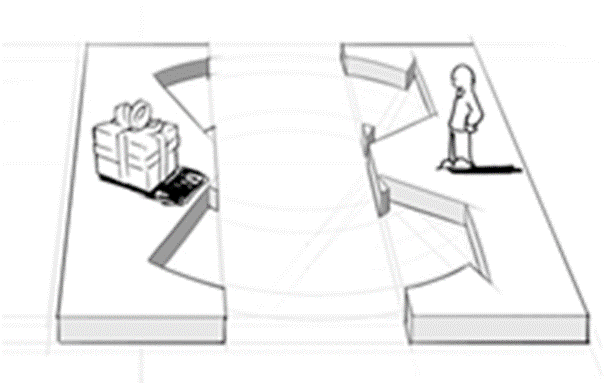 Channels
Value propositions reach customers via communication, distribution and sales channels.One of the key aspects of any business model is:
How are we going to deliver our value proposition to each customer segment?
The channel is key. Our decisions in this respect will determine the customer experience.
Possible channels include:
Direct
– Sales team
– Internet sales
Indirect
– Our stores
– Our partners' stores
– Wholesalers
The channel phases are:
Information
How can we introduce our products and services?
Evaluation
How can we help customers to evaluate us?
Buying
How can customers buy our product or service?
Delivery
How do we deliver our value proposition?
After-sales
What after-sales services do we offer?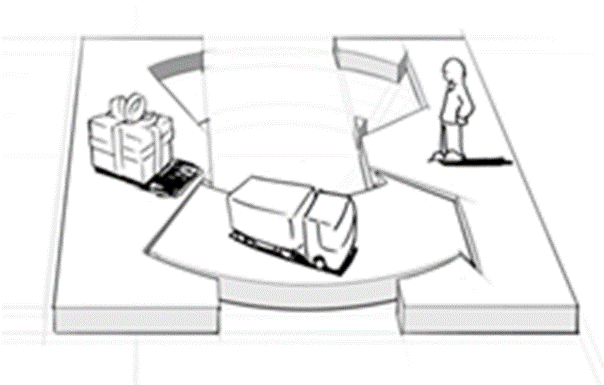 > Channels are the link between our added value and the customer segments
Customer Relationships
Customer relationships are independently established and maintained in the various market segments. One of the critical aspects for the success of a business model, while also the hardest to achieve, is:
What type of relationship will we have with our customers?
What will our brand mean for them?
This is based on perceptions, so the service design and prototype are very important.
Types of relationships
Personal Service
REAL communication with a person assisting with the sales process.
Exclusive Personal Service
Special attention given to a specific customer.
Self-service
No direct relationship with the customers.
Automatic Services
More sophisticated services with automatic processes.
Communities
Groups linked to the product that solve problems for customers.
Collaborative Creation
The customer community collaborates with the company.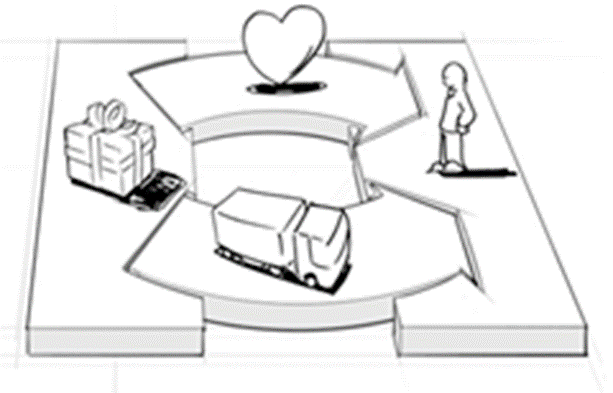 > Customer relationships are the link between our added value and the customer segments
Revenue Streams
Revenue streams are generated when customers acquire the value propositions on offer. This might seem like stating the obvious, but we still tend to be very conservative when it comes to crafting a revenue strategy, almost always opting for direct selling. We have to take time to reflect, look for other business models and consider our revenue strategy from a different angle: sales, subscriptions, freemium, etc. There are some interesting examples on Javier Megías' blog [link].
There are different ways of generating revenue:
Sale of goods
Pay-per-use
Subscription
Borrow / Rent / Leasing
Granting of licenses
Brokerage fees
Publicity
Our business model doesn't have to be limited to a single revenue stream; we can combine several different options.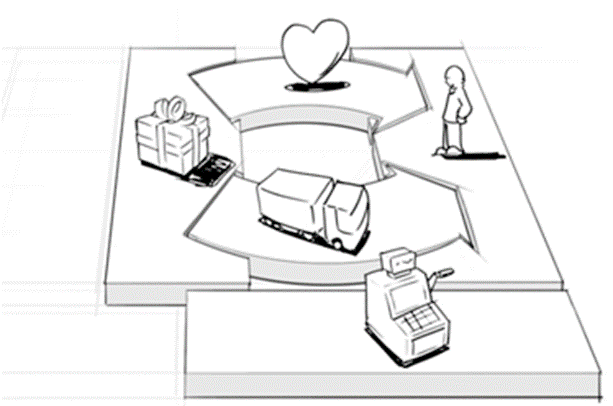 Key Resources
Key resources are the assets required to be able to offer or provide the elements we just described. To launch our idea on the market (the strategy is described on the right side of the business model), we have to take several steps (left side). One of the most obvious is using diverse resources. This section includes descriptions of the main resources like type, quantity and intensity.
We can divide the resources into 4 types:
Physical
The physical assets category includes factories, buildings, vehicles, machines, systems, points of sale or distribution networks.
Intellectual
Elements such as brands, private information, patents, copyrights, customer associations and databases, etc. Difficult to build, but makes all the difference.
Human
People, with varying degrees of specialisation and importance, but always present nonetheless.
Economic
Some businesses require them: credit lines, cash, equity options, economic guarantees, etc.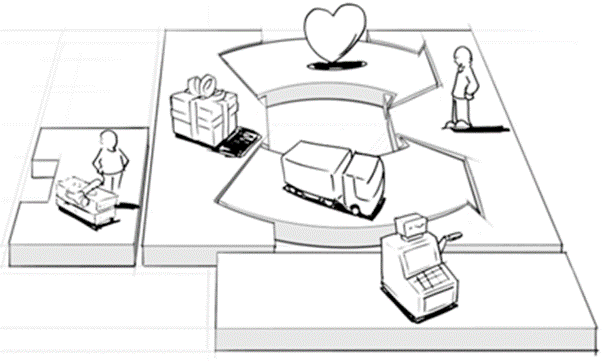 Key Activities
Similar to the previous point, to deliver the value proposition, we have to carry out a series of internal activities (usually including production processes, marketing, etc.). These activities help us deliver the value proposition to our customers via several channels and with a specific type of relationship. The key activities can be divided into the following categories:
Production
Related with the design, manufacturing and delivery of a product in large quantities or with superior quality.
Problem solving
Related with the search for new customised solutions for each customer.
Platform / network
Related with businesses based on a platform or system that generates most of the value. Normally in the areas of management, maintenance or promotion/provision of services.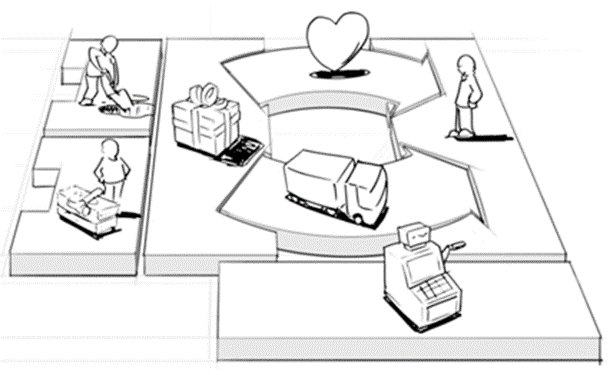 Key Partners
Some activities are outsourced and certain resources are acquired outside of the company. This section defines the alliances needed to successfully execute our business model. These alliances complement our skills and strengthen our value proposition. As a consequence, we can optimise our resources and reduce uncertainty.
Here are 3 different reasons for establishing associations:
Optimisation and Economy of Scale
Basic customer-supplier relationship, aims to optimise resources and activities.
Reducing Risk and Uncertainty
Aim to reduce risk in competitive environments with a high degree of uncertainty; some startups join an association in one area while competing in another (lobby).
Buying Certain Resources and Activities
The root cause of these associations is the need to get information, licences or access to customers.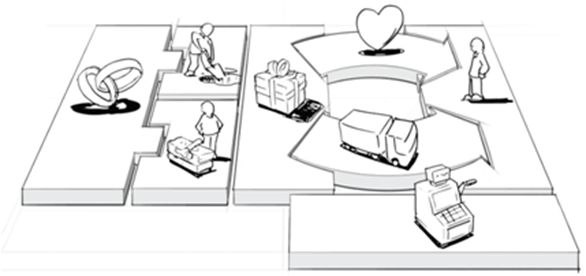 Cost Structure
The different parts of a business model make up the cost structure. This is about modelling the cost structure of a company. It's usually based on the activities and resources described in the previous points. The aim is to identify and optimise fixed and variable costs to design a scalable business model. This is definitely one of the areas with the most opportunity for innovation. There are 2 broad types of cost structures:
Based on Cost
Prioritising cost reduction and the automation or outsourcing of processes.
Based on Value
Prioritising the value proposition.
Cost Structure Features:
Fixed Costs
They do not vary according to volume.
Variable Costs
They vary according to volume or production.
Economy of Scale
The larger the production scale is, the more advantages.
Economies of Scope
Advantages due to the geographic area where the company operates.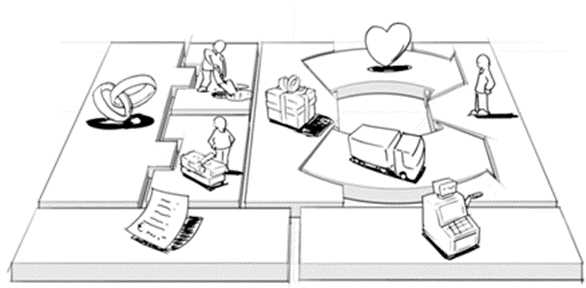 Now it's your turn!
Mastering the Business Model Canvas is a question of practice, so… let's get to work. You've got an idea? Right? If you don't have one, choose any business and analyse it. And if you do, put what you know on the canvas. Using different coloured Post-its, write down the key words and stick them on the blocks.
Not happy with something? Do you need more information?
The canvas is a dynamic thinking tool. It should evolve, change and improve. Little by little it will start to look complete. Your idea will take shape before your very eyes. Go on!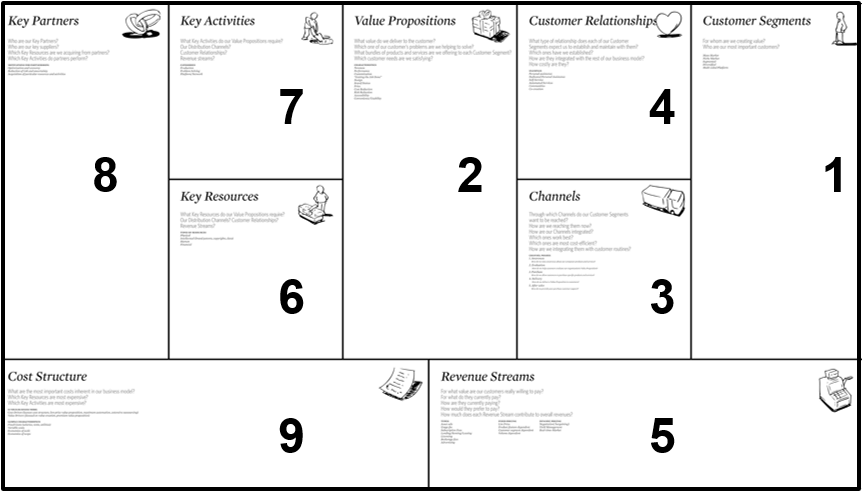 Market hypothesis
All business models are based on market hypotheses. Let's assume that the customer exists, we'll be able to provide the service, we'll have the technology, suppliers, infrastructure, logistics, etc. and that all this will bring in revenue, making the idea not only sustainable but also profitable.
And if our hypotheses are wrong?
Look for the customer to get the machine up and running. We can't invent our target customer, we have to discover them and then reach out.
Hypothesis validation
Once we've identified our customer, we have to VALIDATE our assumptions about them. Then we can definitively incorporate the target customer into our business model.
If our assumptions are false… read more
Should we pivot?
If we don't find our customer, we might discover a different one in the process. There's no need to give up. We should PIVOT.
Take advantage of everything we've learnt and stay on the trail of REAL customers.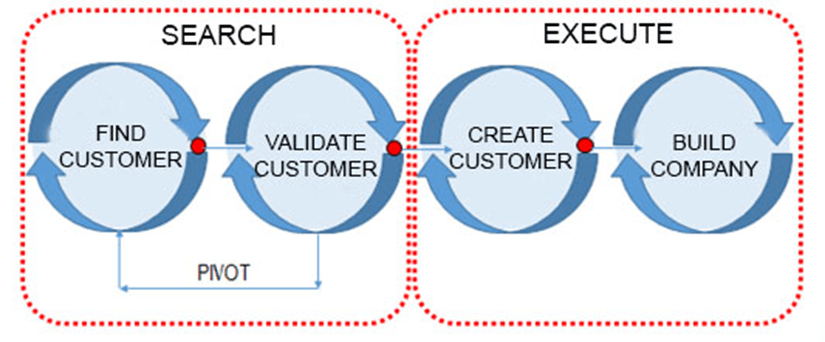 Self-Evaluation Checklist
I've identified the customer segments that I want to sell my idea to.
I understand how important the value proposition is.
I'm analysing different channels to use to get my product to customers.
I understand that I have to define the type of customer relationship I want and that my marketing strategy is the key tool for doing this.
I've defined my revenue streams (and I'm looking for more).
I've listed all my key activities and I'm linking them up with the key resources that I'll need to carry them out.
I recognise the importance of belonging to key associations that will help me to execute my products/services.
I've created a cost structure and I know how much my idea costs.
Interesting Links
On top of what we've looked at in this module, you can keep exploring the Business Model Canvas using the following links.
> Alexander Osterwalder: Tools for Business Model Generation
Introduction to the module
Welcome to the Business Startup module.
The goal of this module is to create a startup, provide you with the necessary tools and refine your skills so that you can turn your idea into a business model.
Download here related workbooks before starting the course:
All workbooks in this course please submit to rventura@uma.es (UMA students), s.best@mdx.ac.uk (MDX students), dmiocevi@efst.hr (UNIST students), upon finishing the assignments.
About author
Rafael Ventura Fernández, Ph.D., is Vice-President of Social Innovation and Entrepreneurship at University of Málaga. Ventura joined the University of Málaga in 1995 and has been visiting research fellow at the Technical University of Delft (Netherlands) and the University of Stockholm (Sweden). He has received PhD Prize and Spin Off Award in Universidad de Malaga. Ventura teaches entrepreneurship, innovation in business models, social responsibility, economy of culture and new organizational forms derived from the information technology and communications. His research has been presented and published in the proceedings of regional, national and international conferences and in peer-reviewed journals. He has experience managing research projects, postgraduate academic programs and educational innovation projects.
For discussion and course related questions visit the FORUM.
Course Features
Lectures

13

Quizzes

0

Duration

90 hours

Skill level

All levels

Language

English

Students

11

Assessments

Self
UNIT 1. Startup Entrepreneurs

UNIT 2. Tools

UNIT 3. Building Knowledge