Business Start-Ups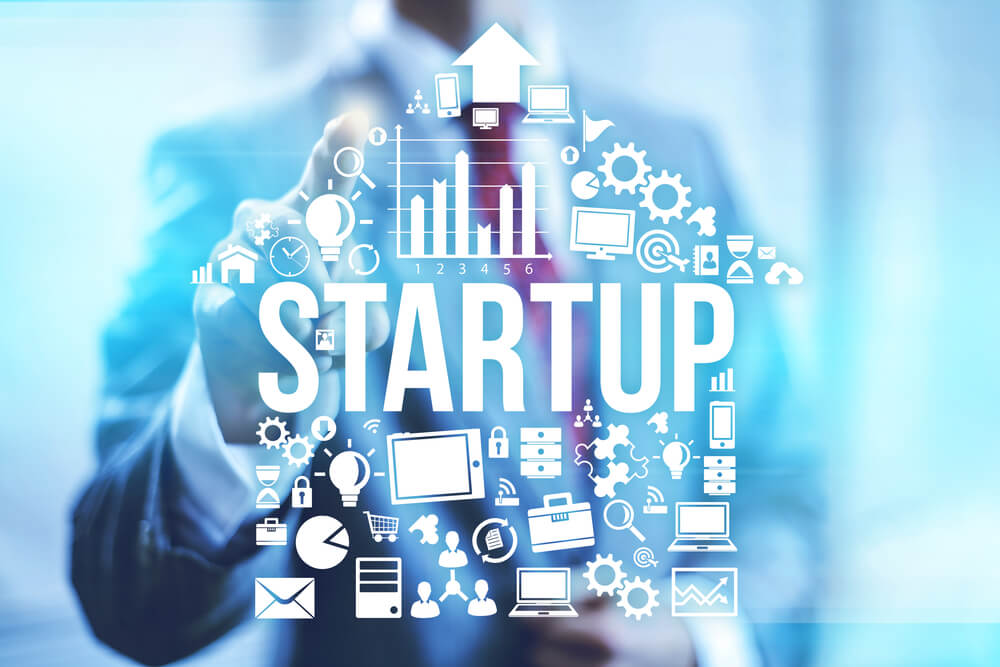 Living on the Edge
Adrenalin and risk at startups
A bold step for some, an obligation for many others, but above all, an adrenalin-filled decision for everyone. Setting up a company like a startup involves risks and decisions that are not always easy to tackle.
"You have to like adrenalin and taking risks, and of course, doing a bit of everything and something new every day," says Miguel Caballero, CEO of Tutellus, but the most important thing is to "have an open mind, always ready to change and evolve."
Opting for the startup format is not a risk-free decision, but it does come with challenges and personal satisfaction, making this option more attractive than it might first seem.
"More than taking the plunge, I'd call it 'burning your bridges', because at that moment there's no going back and you have to focus on moving forward, conquering a new territory. But you do have to be prepared to embrace uncertainty," explains De Antonio, founder of Cabify, to all those people thinking about following in his footsteps. "All you need is an idea that solves a problem, a team capable of executing it and a lot of willpower and hard work."
However, even after coming up with an idea for a need we've identified, we're operating in a highly uncertain and volatile environment where many startups are struggling to survive. This means that we have to be flexible and adapt our business models to the realities of a changing market. There's no use persevering with an idea that we think is the bee's knees if we can't find customers who agree with us.  On the other hand, during our research, we might find other market segments or even new applications. Being able to find these new formulas for success, embracing them and developing them, while casting the initial idea aside is complex.
Pivoting…
In startup lingo this is called Pivoting. It is a work model in itself and a key attitude for living on the edge, with uncertainty from one day to the next. We can't stress this too much: pivoting is an essential survival tool in highly changeable environments. It's about having the flexibility you need to change your business model quickly and effectively.
"We say that a company "pivots" when it becomes necessary to make relatively significant changes in the business model, applying what has been learned along the way." Javier Megías
Companies with complex structures find it hard to do this because they're slower at implementing changes, whereas startups have to remain agile so they can react and change their corporate strategies.
Matapolillas Nopol – Les Luthiers (A fun take on pivoting)
Things to consider if you're going to pivot…
Pivot using the knowledge you have acquired. Really get to know your customers so you can learn from them. If we do a good job at analysing all our information, pivoting will be much easier.
Intuition is key. Never stop listening to your team and yourself. You can put off the decision to pivot without ditching it altogether.
We don't pivot the product, we pivot our vision. This is a common problem. Rather than pivoting the product, we pivot how we offer it to customers, or who our target users are… it can be as simple as tweaking the focus.
Pivoting doesn't have to be extreme, sometimes all we have to do is explore different options and conduct tests on new hypotheses while still working on the current model.
Notable examples of pivots
You must have heard of Groupon, a website offering discounts and exclusive offers.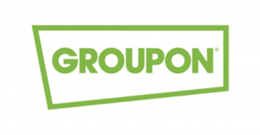 Groupon first started as an online activism platform. If someone wanted to organise a protest about an issue, they could post it on Groupon.
The reason for pivoting was the lack of monetisation strategy until one of the founders saw a coupon promotion for a pizzeria and decided to send it to their subscribers. After many coupons were redeemed, the coupon and discount website we know today was born. The real achievement was the founders' decision to try a new MVP. They weren't afraid to put their new ideas into practice.
What about attitude?
Taking a look at the job offers at new startups, we find that applicants are required to bring to the post knowledge of areas such as the sharing economy, innovation and management, as well as showing a focus on metrics and results, commitment, flexibility and empathy or emotional intelligence. Hidden among this list of values and qualities are the essential skills for forming part of a team that has to stay afloat in a constantly changing environment. Community building skills, solidarity and tolerance of errors are also a must.
> Steve Jobs and Bill Gates Together at D5 Conference 2007
But what if I fail?
Many of the studies on the duration and lifespan of startups have found that 80% don't last 5 years and 90% don't last 10. The startup model presented in the first section conceives failure as a learning model. The sooner we make mistakes, the faster we learn.This graphic, created by Lance Surety Bond, uses humour to show 20 of the main reasons a startup fails. You can see the original study presented by CBinsights at this link:
https://www.cbinsights.com/research-reports/The-20-Reasons-Startups-Fail.pdf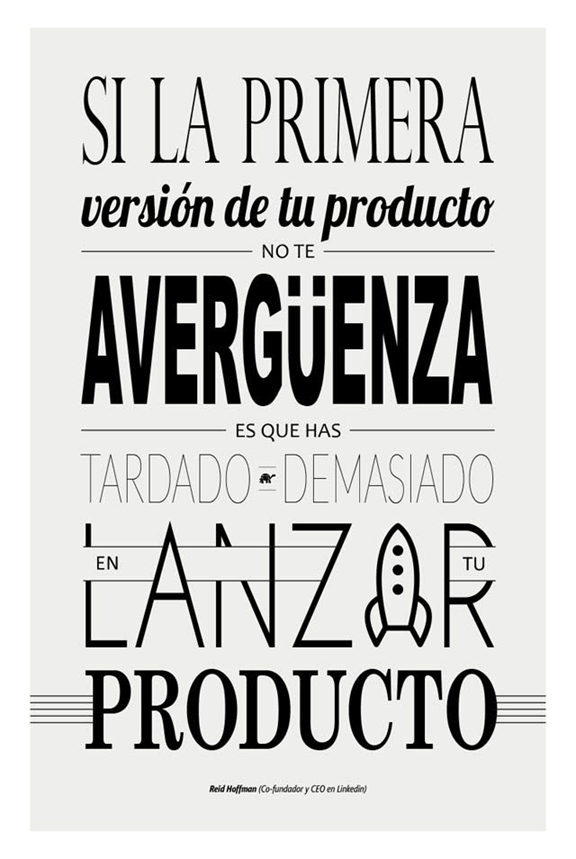 If you are not embarrassed by the first version of your product, you've launched too late.
Reid Hoffman (LinkedIn co-founder and CEO)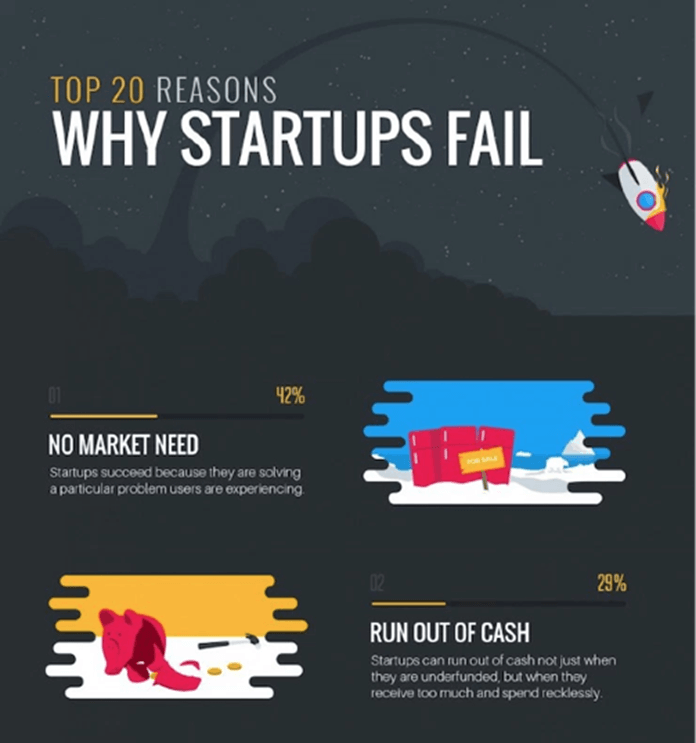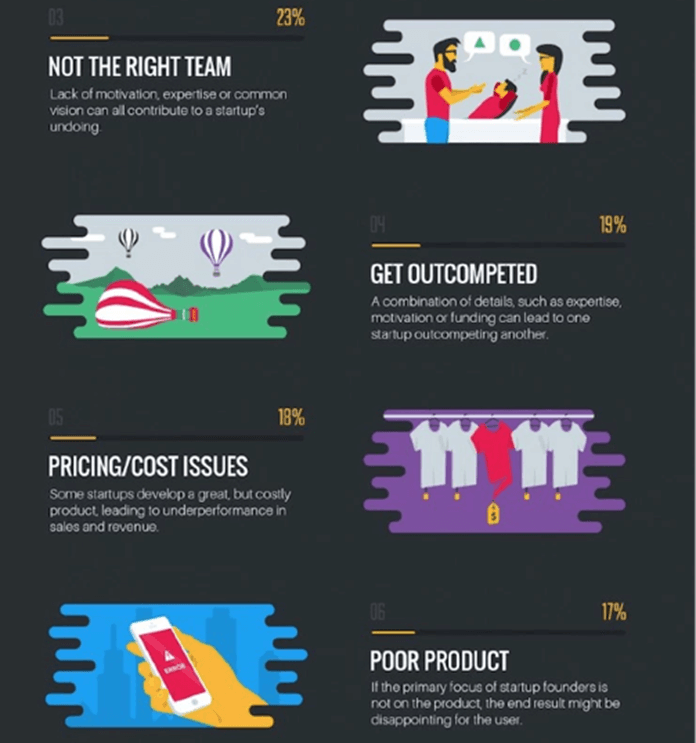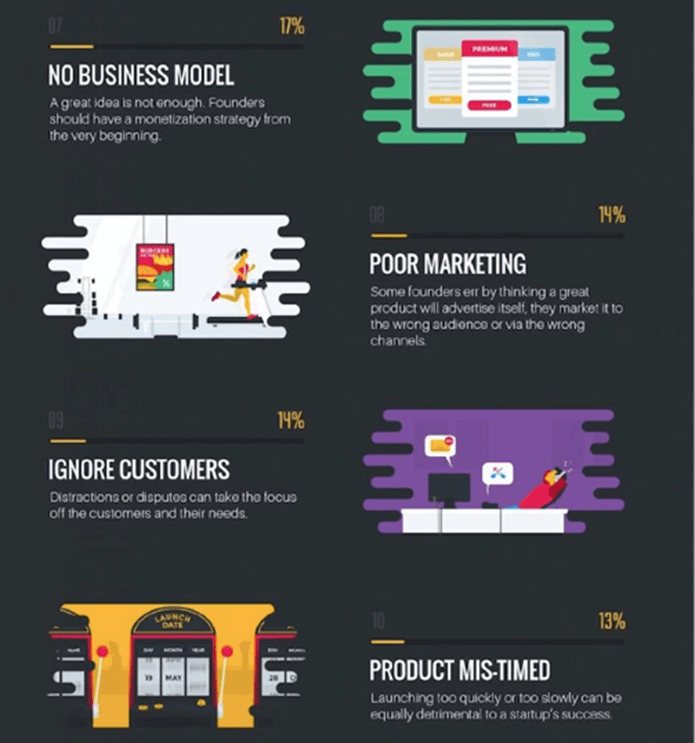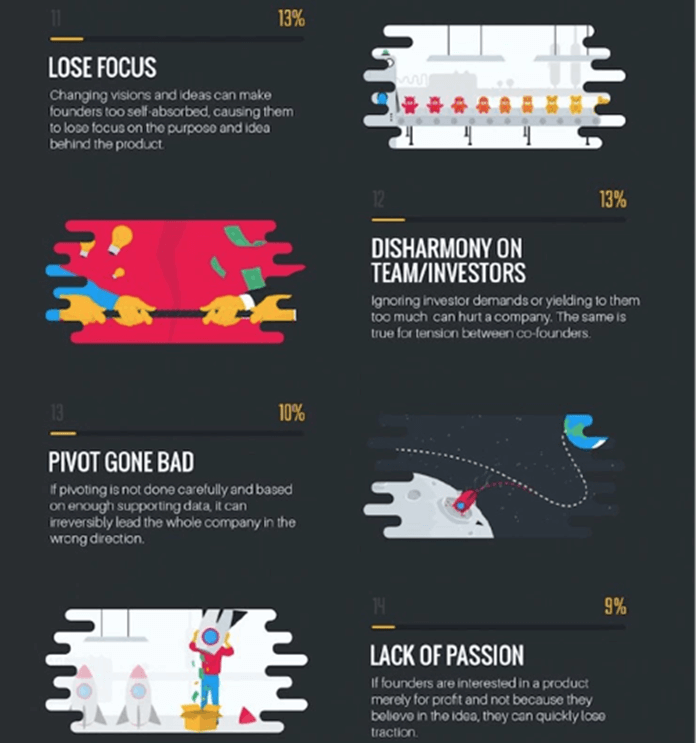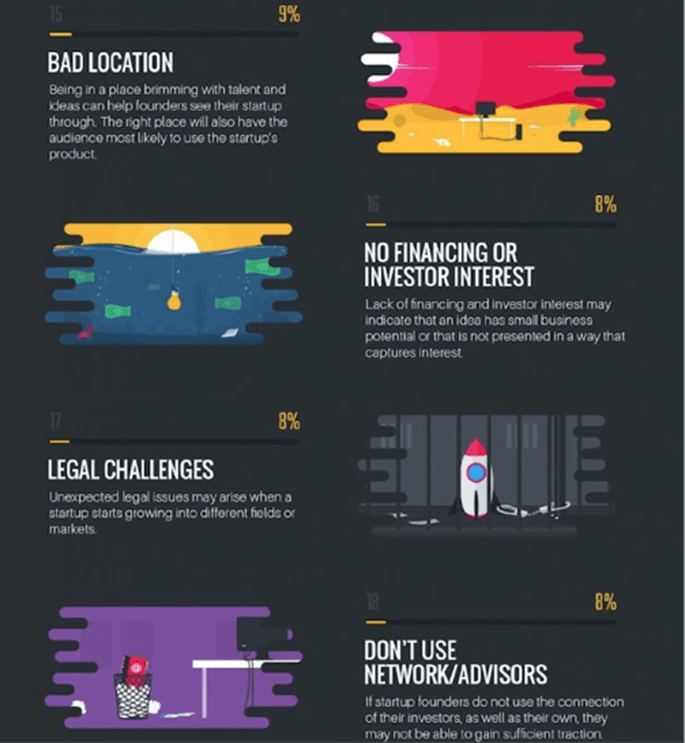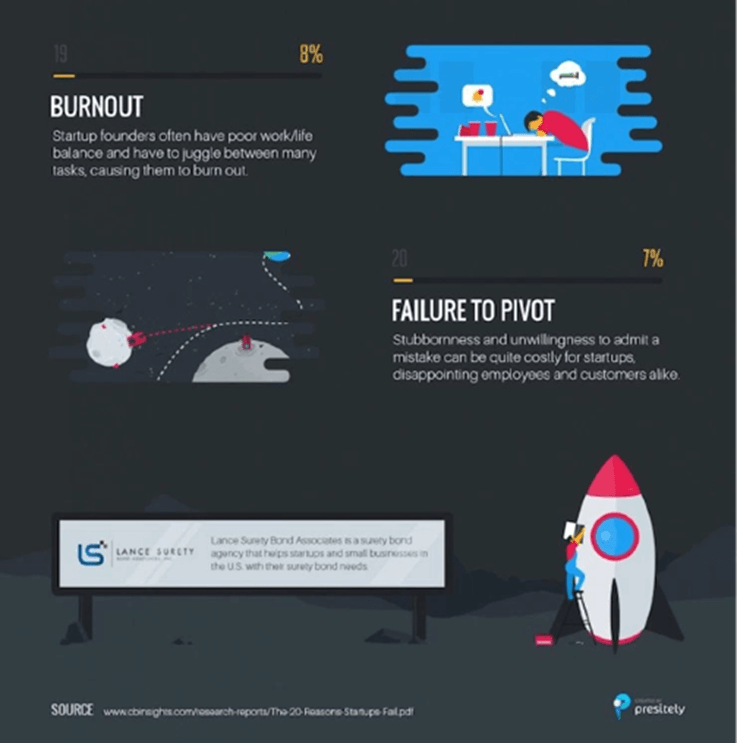 Now that we've gotten this far, the second Let's Do It is pretty straight forward.
How to reduce the feeling of uncertainty in the air? The only way to diminish the entropy implicit in the system is by using information. We can't get information on how our project will play out, but we can anticipate different situations and propose solutions ahead of time. This is the Let's Do It for today!
Plan ahead and choose from among the 20 reasons we've seen 4 that could make your startup fail.
Think of a possible solution for each one! 😀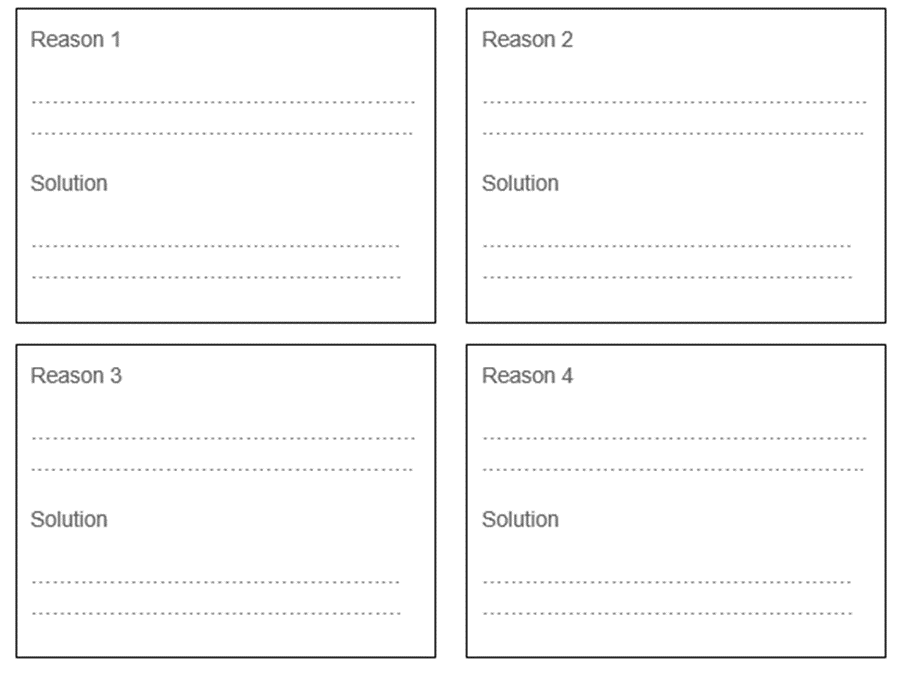 Self-Evaluation Checklist
I understand the risk and adrenaline startups produce.
I've grasped the concept of uncertainty.
I've learnt about pivoting.
I value the importance of knowledge in the constantly changing environment that startups operate in.
I understand that pivot doesn't mean abandoning the project; it's about changing the focus.
I know of several startup models that have pivoted.
I've understood how important tolerance of errors is in the startup model.
I understand that we should learn from our mistakes.
I think that when the time comes I'll be "ready to live on the edge".
Introduction to the module
Welcome to the Business Startup module.
The goal of this module is to create a startup, provide you with the necessary tools and refine your skills so that you can turn your idea into a business model.
Download here related workbooks before starting the course:
All workbooks in this course please submit to rventura@uma.es (UMA students), s.best@mdx.ac.uk (MDX students), dmiocevi@efst.hr (UNIST students), upon finishing the assignments.
About author
Rafael Ventura Fernández, Ph.D., is Vice-President of Social Innovation and Entrepreneurship at University of Málaga. Ventura joined the University of Málaga in 1995 and has been visiting research fellow at the Technical University of Delft (Netherlands) and the University of Stockholm (Sweden). He has received PhD Prize and Spin Off Award in Universidad de Malaga. Ventura teaches entrepreneurship, innovation in business models, social responsibility, economy of culture and new organizational forms derived from the information technology and communications. His research has been presented and published in the proceedings of regional, national and international conferences and in peer-reviewed journals. He has experience managing research projects, postgraduate academic programs and educational innovation projects.
For discussion and course related questions visit the FORUM.
Course Features
Lectures

13

Quizzes

0

Duration

90 hours

Skill level

All levels

Language

English

Students

11

Assessments

Self
UNIT 1. Startup Entrepreneurs

UNIT 2. Tools

UNIT 3. Building Knowledge