Innovation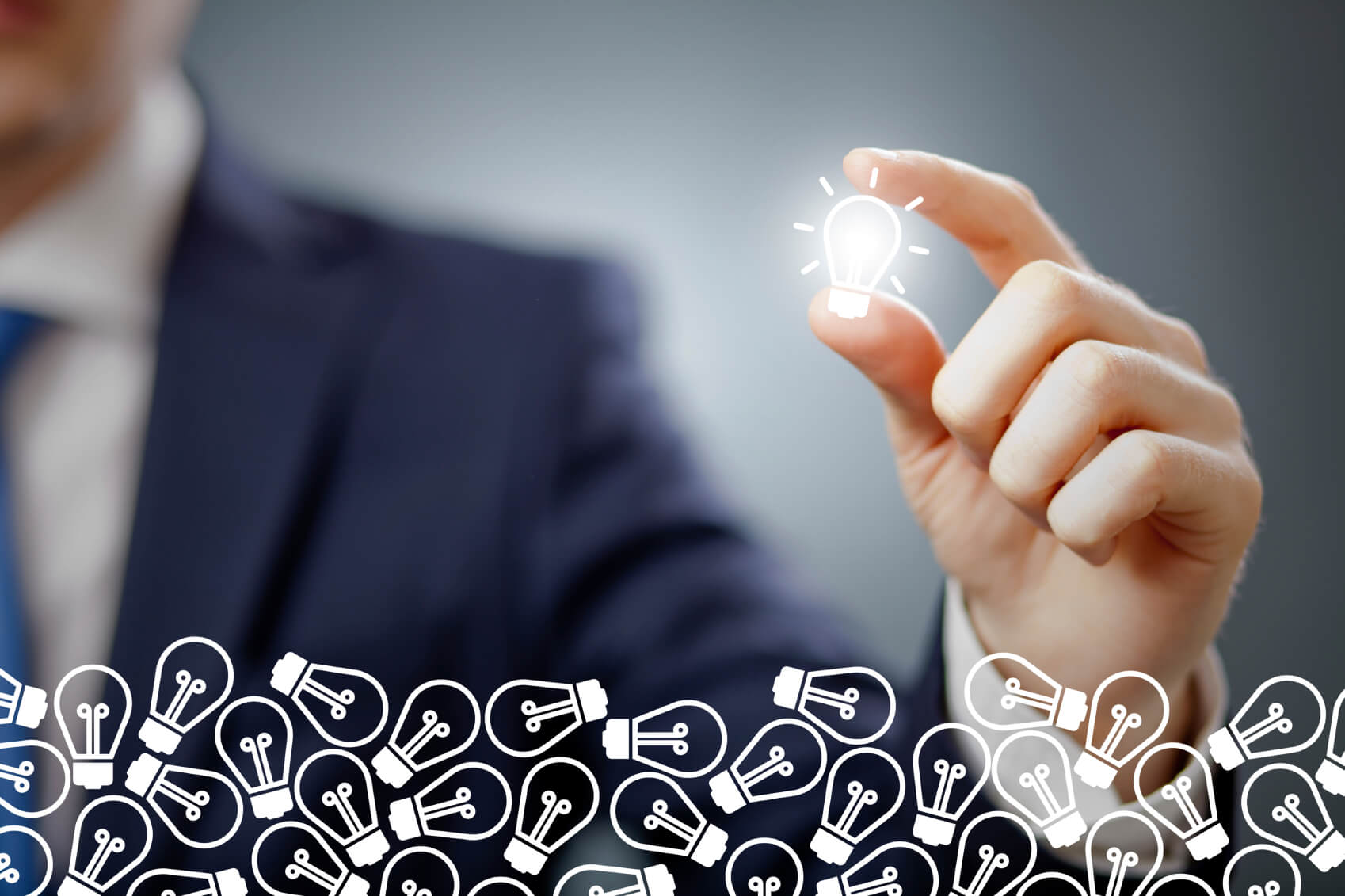 What is innovation? Section: SDL2
The purpose of the self-directed learning is for you to develop your own learning.  There are a number of tasks that you should complete before you undertake the next section.  You can work through this section at your own pace.  It is expected that you would take up to 3 hours to complete this section.  You must complete this section before you move to the next section.
Task 1
Read the article "Sandpit One Part One" and follow the instructions.
This activity is intended to stimulate your creativity
Sandpit 2 Part 1
In the photos below are a number of everyday items that we tend to throw away or send to be recycled.  If you have access to the items collect them and look carefully at their shape, texture and structure.   Then in your workbook write a list of products you could make from these items at home.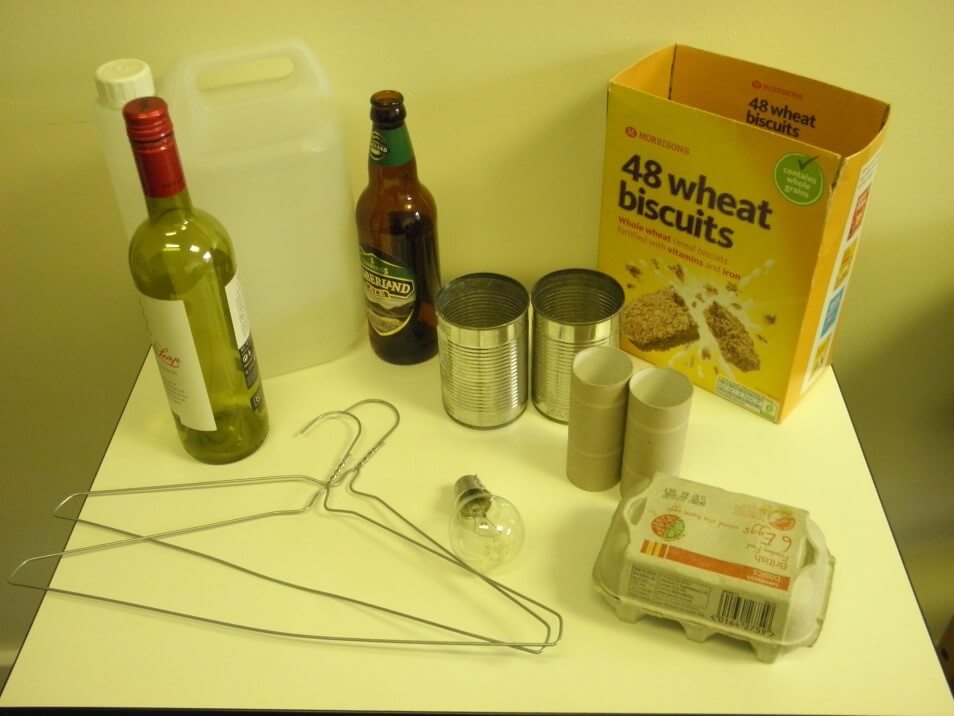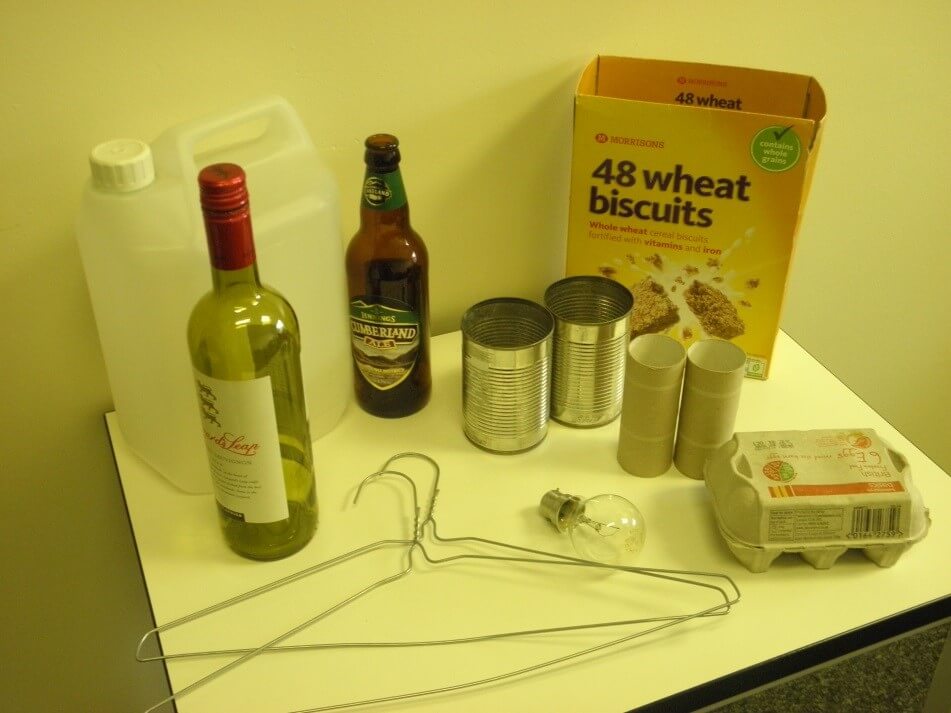 Task 2
Read the article "Sandpit One Part Two" and follow the instructions.
This article summarise the content of this unit.
Sandpit 2 Part 2
Below are photos of products that people have made and been able to sell from some of the items.  If you have access to any of the materials see if you can come up with a product someone might buy.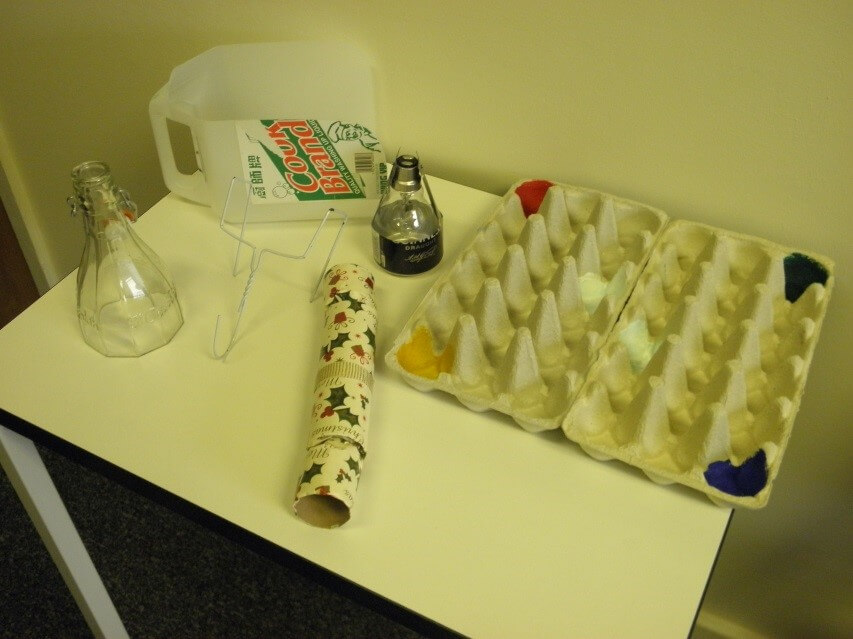 On the left side of this photo is half a bottle, this can be used to cover candles outside so the wind does not blow them out.  There is a Christmas Cracker made from the cardboard tubes and a coat hanger has been cut and bent so it now serves as coat hanger that fits over a door.  The egg carton has been turned into a game the 2 to 4 people can play; the game is similar to Ludo.  In the top of the picture on the left had side is a scoop cut from a large plastic container.  In the middle is an oil lamp made from an old light bulb and a tin can.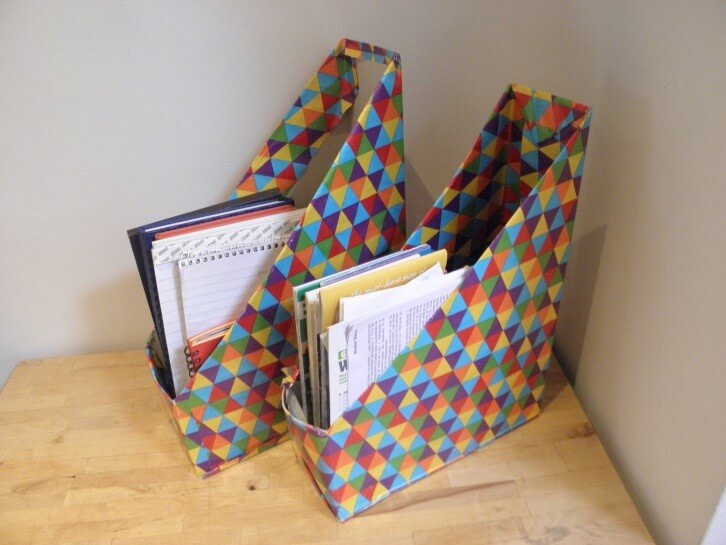 Two cereal boxes have been cut and covered with patterned paper to make two magazine or paper storage boxes.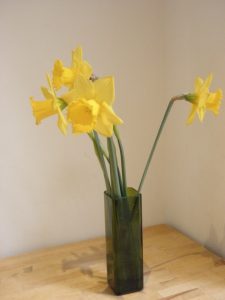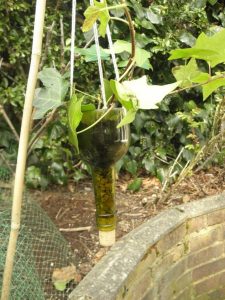 Here an olive oil bottle has been cut to make a vase, and the top half of a bottle has been converted into a hanging plant holder.
Task 3
You need to read the article " A Summary of this Unit"
This article summarise the content of this unit.
Summary Unit 1
In this unit we have looked what innovation is, why innovation matters and some of the misconceptions of innovation.  Innovation changes the way we do things rather than what we do.  As each innovation introduces a change it leads to further innovations.  As a result there has been an explosion in changes in the way we live our lives.  This alone makes understanding the nature and consequences of innovation important.  However, there is still much more to innovation.  Innovation relies on knowledge and each time we change something we develop more knowledge, which leads to wider and wider changes.  Not so long ago there were basically two ways you could send information to someone in another country.  Today there are multiple ways.  The fact that each and every innovation is connected is also an important factor that helps us understand that innovation is in fact a complex concept.  In essence innovation leads to change which leads to more innovation to cope with the change.
We have also discovered that innovation is difficult, messy and not as common as we might imagine.  We noted that innovation is not a linear process.  It is often messy and complicated.  Some types of innovations are extremely rare and others are very common.  We saw that the common denominator amongst the emergence of innovation is that all of the pieces have to be in the right place at the right time.
When using innovation as a way to solve problems in business we identified three concepts.  These concepts are creativity, play or exploration and curiosity.   It is important to remember that the three concepts that tend to function together at the same time.  What was also shown was that fundamentally there is nothing really new.  Creativity is essentially a remix of existing items.  The creative process is very much about copy, transform and combine.
Like most things innovation is beset with myths and misconceptions.  In this unit we draw on Berkum's seminal book about the myths of innovation.  We also look at some of the misconceptions beyond Berkum's myths. Understanding these misconceptions and myths help us develop our abilities to be innovative.
Task 4
In your workbook write an essay based on your learning in this unit
This is an opportunity for you to summarise your learning.
You should undertake further reading on the topics in this section.  We recommend that you read and watch the following:
Robinson, Ken, 2011, "Out of our minds; Learning to be creative," Capstone Publishing Ltd Chichester
Everything is a remix, a case study of the IPhone
The next section is Unit 2 Acting Innovatively
Introduction to the module
Welcome to this module on innovation.  The module is designed to be used either individually or within a classroom setting.  The module takes a non-technical approach to innovation and looks at setting innovation within small every day businesses.  It explains what innovation and isn't and how you can develop your skills and abilities to become better business owners.  You will find the module will challenge your thinking around innovation in preparation for either starting your own business or developing an existing one.
This module can be used as a standalone module on innovation or as part of the Student Business e-Academy programme on Business start-up.
Download here related workbooks before starting the course:
All workbooks in this course please submit to s.best@mdx.ac.uk (MDX students), cplata@uma.es (UMA students) or  lana.ugrcic@efst.hr (UNIST students),  upon finishing the assignments.
About author
Dr. Simon Best is a Senior Lecturer at Middlesex University, with interests in micro and small business start-up and development. Simon's first career was 15 years as a chef; this was followed by two years as a Market Researcher and then 28 years as self-employed business owner.  During his time as a business owner, Simon started businesses in Australia, Papua New Guinea, India and Viet Nam.  Simon has extensive networks across many countries.  Currently Simon leads the Enterprise development hub – EDH@MDX as well as lecturing in Entrepreneurship and small business development.
For discussion and course related questions visit the FORUM.
Course Features
Lectures

20

Quizzes

11

Duration

60 hours

Skill level

All levels

Language

English

Students

75

Assessments

Self