Marketing Innovative Products and Services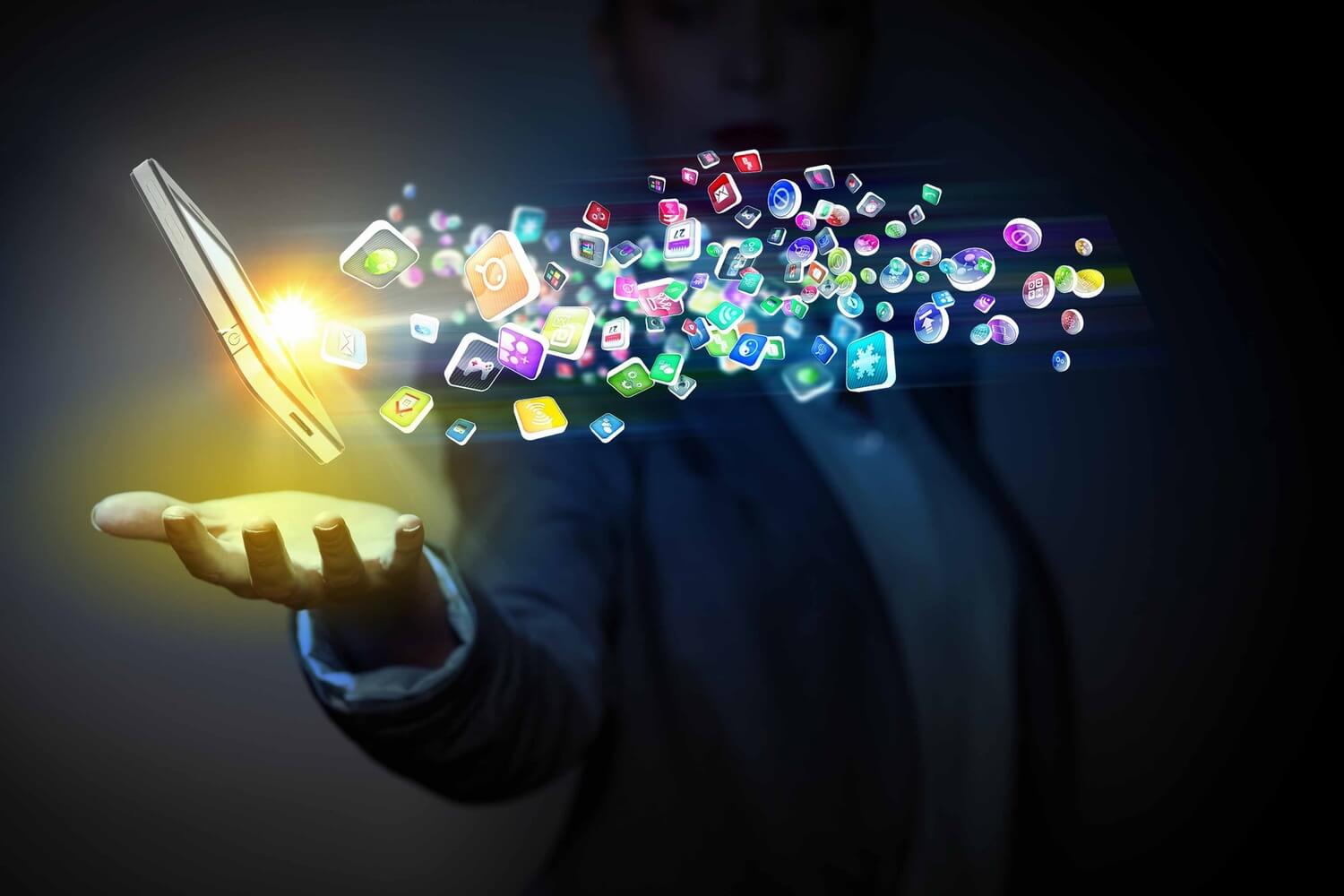 Analyzing the marketing environment
The marketing environment consists of all factors, which are (or might be) relevant for your entrepreneurial venture and the development of your marketing initiative(s). It is generally accepted[1] that one should separately consider and analyze two parts of the environment:
the internal environment, consisting of all those resources (materials,

machines

and equipment, money, information and ideas…), which actually belong to you and can be completely controlled by the decisions you make and

the external environment, being outside of your control and creating a wider context for your business, to which you should try to adapt in the best possible way.
The external environment itself has two distinct parts, which could be differentiated according to the level of direct influence, which they could exercise over your future business. It is likely that you will see the stakeholders of your business, such as your customers, banks and other creditors (members of the financial community), competitors, suppliers, government and social (nonprofit) organizations, etc., exercising some level of influence on daily basis and asking you to adjust a certain part of your operations and/or your marketing approach.
For instance, you may be issued a fine if your company does not comply with government regulations, related to consumer rights and safety, or if you fail to protect minors from ads, promoting the use of alcohol, or tobacco products. Social organizations, or representatives of your local community might ask you to take part in voluntary actions, trying to help homeless people, or some socially disadvantaged groups in your area. While you might think this is a waste of time, it is still nice to contribute to your community and this might be also an opportunity for you to get some free promotion and create a certain level of goodwill in your community, toward your company and its products/services. Other expectations might include customers' requirements, related to (re)design of your products and services, creditors' terms for buying the materials and other inputs, needed to manufacture the products, etc. This part of the external environmental, consisting of stakeholders and their requirements to your business, is usually referred to as the micro-marketing environment.
At the other hand, part of the marketing environment, referring to the general trends in a society and economy, is the macro-marketing environment. It creates the general business climate and sets the stage for stakeholders of your business to create their specific requirements and expectations toward you.  Once again, it is not easy to create a framework of generic environmental factors, important for all kinds of entrepreneurial ventures in an economy.  However, it seems that the following four factors are generally accepted as relevant:
Political and legal factors, related to the political and legal institutions, as well as securing the legal order in a certain country, or a region.
Economic factors, such as inflation, economic boom (or a recession), the level of gross national product, foreign investments, government's economic and taxation policies, etc.
Social and cultural factors, which influence the values and general opinions of your customers, but also of all other previously mentioned stakeholders.
Technological factors, relevant for the design and manufacturing (delivery) of your products and services.
The following figure illustrates all the dimensions of the marketing environment.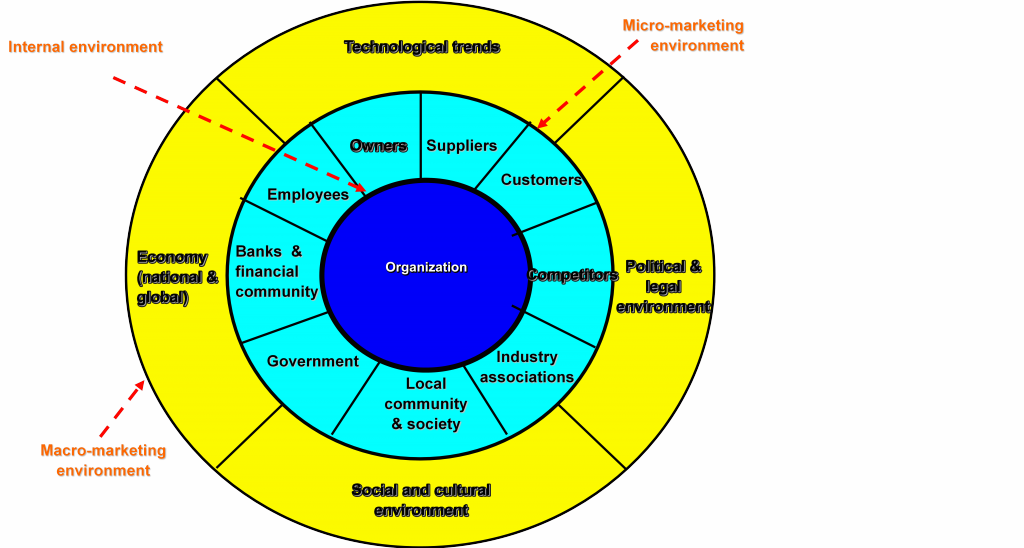 Figure 1. Enterprise (marketing and managerial) environment
Adapted and used with permission from the copyright owner (Faculty of Economics Split, Croatia). Originally published in:  Buble, M.: Menadžment, Faculty of Economics Split, Split, 2006, p. 67.
RELATED WORKSHEETS:
After you go through and fully understand the topic(s) covered so far, you should be able to fill in the worksheet 1A.
Once you are familiar with all aspects of your marketing environment, which will be covered in the next topic, it will be easy to summarize your findings by using the SWOT analysis, which is the acronym of the four significant dimensions of both the external, and the internal environment. The Strengths and Weaknesses are summaries of all positive, i.e. negative aspects of the internal environment, while the external environment is characterized by the Opportunities and Threats identified, regardless if they are positioned in the macro-, or the micro-marketing environment.
The following figure illustrates the SWOT matrix, which is considered as the final product of the SWOT analysis.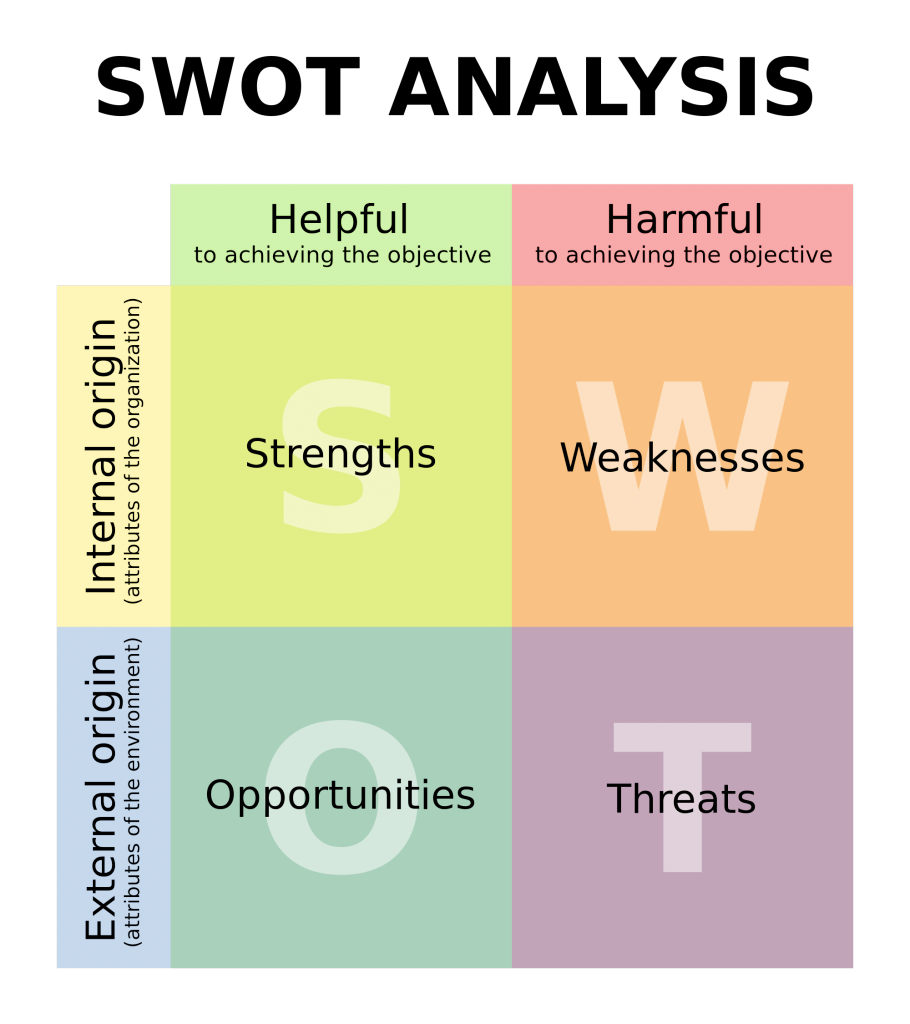 Figure 2. The SWOT matrix
Downloaded from https://commons.wikimedia.org/wiki/File:SWOT_en.svg and used according to the terms, set by the Creative Commons Attribution-Share Alike 2.5 Generic license.
The SWOT matrix should be easy to understand and apply: it should be used as a "cheat sheet" for the entrepreneurs and marketers, interested in obtaining a quick insight into the situation, characterizing the marketing environment. So, it does not make any sense to use the generic factors that you might find in a textbook, or on the Internet, to create your own SWOT analysis, since it will not be applicable to your specific entrepreneurial situation. Try to perform the SWOT analysis in a team and think about the SWOT matrix in terms of an "action plan", defining what is good (or bad) about your company and its environment. In the next step, you will be using the conclusions, reached at this stage of the marketing process, to formulate your own marketing plan.
STUDENT ACTIVITY:
Take a look at the following You Tube video, describing the marketing environment of the Ford Fiesta vehicle.

Think about the relevant dimensions of the marketing environment and identify how Ford Motor Co. used them in their environmental analysis. Perform your own analysis of a selected consumer product (service) and present it by using the SWOT analysis framework.
Here is an example, which might be useful to perform the student activity. It is related to the Open Street Map Web site (https://www.openstreetmap.org), which contains the free version of the world map, contributed by the Internet users and can be used without any restrictions, as opposed to its commercial competitors. Those include offerings from companies, such as Google (Google Maps, https://www.google.com/maps), Microsoft (Bing Maps, http://www.bing.com/maps/) and Apple (Apple/iOS Maps, https://www.apple.com/ios/maps/). Before reviewing the SWOT analysis, performed by the Italian Wikimedia team, it would be advisable for you to review all the mentioned products and the license terms, under which they are offered. After thinking about the competing market offering, take a look at the following figure, showing the SWOT matrix for the Open Street Map product.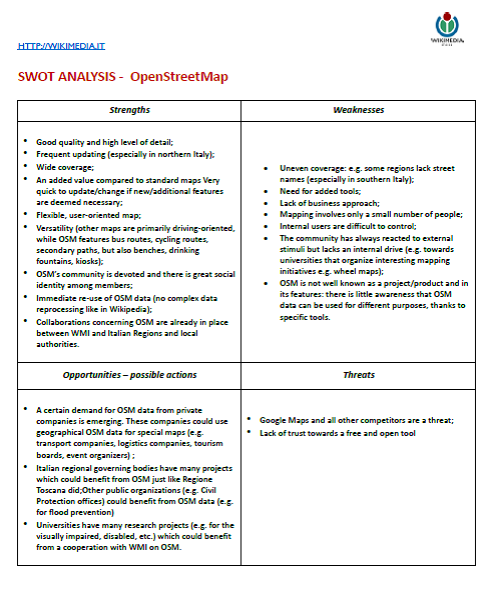 Figure 3. The SWOT matrix Open Street Map (https://www.openstreetmap.org)
Downloaded from https://commons.wikimedia.org/wiki/File:SWOT_Analysis_-_OpenStreetMap_-_WMI_2015.pdf and used according to the terms, set by the Creative Commons Attribution-Share Alike 4.0 International license.
It should be noted that the SWOT analysis can be either based on managerial (i.e. entrepreneurial) perceptions, which is perfectly adequate for the stage of entrepreneurial idea generation, but not good enough for the purpose of drawing up a realistic business plan. For the purpose of business planning, "hard" data should be obtained and analyzed before using the SWOT analysis as a generic framework, summarizing the results from previous marketing research. This brings us to the third topic of this workbook.
[1] For instance, refer to: Armstrong, G., Kotler, P.: Marketing: An Introduction, 12th Ed (Global Edition), Pearson Education, 2015, pp. 95-122.
Introduction to the module
In this module participants look at the steps taken to market products and services. They will work on real cases involving new products or services.
Download here RELATED WORKSHEETS
The workbook in this course please submit to ljiljana.najev.cacija@efst.hr (UNIST students), s.best@mdx.ac.uk (MDX students),  apenafiel@uma.es (UMA students), upon finishing the assignments.
About authors
Nikša Alfirević is a full professor of Management and an assistant professor of Sociology at University of Split, Croatia. He holds a PhD in Management from the University of Split (Croatia) and a PhD in Sociology from the University of Klagenfurt (Austria). He has developed the Student Business Academy program as a form of student entrepreneurship learning, which served as a foundation found for the SBeA project.
Daša Dragnić is an assistant professor of marketing at the University of Split, Croatia. She has extensive experience in developing programs for entrepreneurial education, consulting small businesses and developing small business policies at the municipal level.
Ljiljana Najev Čačija is an assistant professor of marketing at the University of Split, Croatia. She is also an entrepreneur and a consultant, specialized in small business development and nonprofit organizations strategy and marketing.
For discussion and course related questions visit the FORUM.
Course Features
Lectures

7

Quizzes

0

Duration

60 hours

Skill level

All levels

Language

English

Students

17

Assessments

Self
UNIT 1

UNIT 2

UNIT 3

UNIT 4

UNIT 5

UNIT 6

UNIT 7